Germany's migrants: Seehofer 'offers to resign' over migrants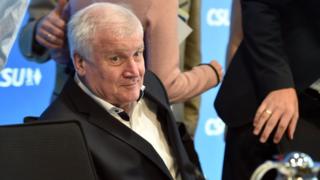 Germany's interior minister has offered to resign over Angela Merkel's EU deal to tackle immigration, reports say.
Horst Seehofer, leader of the CSU, a key party in Mrs Merkel's coalition, has grown increasingly angry at her position on immigration.
Last week he threatened to turn asylum seekers away from Germany's borders unless Mrs Merkel reached an acceptable deal with other EU partners.
His stance put Mrs Merkel's coalition and her political future in question.
Late on Sunday, Mrs Merkel's Christian Democratic Union (CDU) passed a resolution supporting her position on migration. CDU General Secretary Annegret Kramp-Karrenbauer said the party believed a European solution was necessary.
But separate reports from sources within the CDU's Bavarian sister party, the CSU, indicated Mr Seehofer had offered to resign both as leader of the CSU and as interior minister. He is due to make a statement shortly.
The sources said that in Sunday's closed-door meeting Mr Seehofer complained he had held a "conversation with no effect" with Mrs Merkel when they held talks on Saturday about the EU deal on migration, AFP news agency reports.
He wants to step down because he enjoys "no support", the sources added.
It was also reported that senior figures were trying to persuade Mr Seehofer not to step down, including CSU parliamentary group chief Alexander Dobrindt.
Both parties spent Sunday discussing the deal on immigration Mrs Merkel fought hard to reach at last week's European Union summit.
She said Greece and Spain had agreed to take back migrants stopped at the Bavarian-Austrian border who are proven to have entered their countries first – a move she hoped would allay Mr Seehofer's concerns.
But the divisions within the German government over the issue are also being played out in other EU countries, and this was reflected in the vague wording of Friday's deal.